---
Films I Watched In: June & July
Below are all the movies I watched over June and July – fifteen in total, listed from Most Favourite Watch to Least Favourite Watch.
Important Disclaimer: the 'watch' bit in both subheadings is actually VERY important. Hence the important disclaimer. It's important because I'm judging each film by that watch only – not on the actual merit or brilliance (or complete lack…) of the film. Which is why The Last Boy Scout is prized so much higher than Goodfellas. Obviously. And because Bruce Willis, especially smug Bruce Willis (which is basically just Bruce Willis) RULES.
MY VERY MOST FAVOURITE:
1. The Last Boy Scout (1991)
2. Tango and Cash (1989)
3. The Thing (1982)
4. Goodfellas (1990)
5. Hereditary (2018)
AND THESE WERE HELLA FUN TOO:
6. Cujo (1983)
7. A Nightmare on Elm Street 3: Dream Warriors (1987)
8. American History X (1998)
9. Attack the Block (2011)
10. And Soon the Darkness (1970)
BUT THERE WERE MY LEAST FAVOURITE (SAD FACE):
11. Whistle Down the Wind (1961)
12. Detroit (2017)
13. Frozen (2009)
14. Natural Born Killers (1994)
15. The Core (2003)
For the record, Whistle Down the Wind and Detroit are both great films. In fact you can read my glowing review for Detroit right here. Natural Born Killers is entertaining enough but I've seen it soooooo maaaaaaaaany times and I'm not fifteen anymore, wearing rose tinted (NHS) glasses. Thank god.
Even  Frozen – that's pretty fun to be fair and I reviewed it a while back for an excessively super Nature's Fury blogathon (thanks Bazza). Quick note – I'm not talking about the annoying Disney film which I have never seen and never WANT to ever see. Noooo, I mean the one where the teens are trapped on a ski lift and one of them jumps out and breaks his knee bones through his skin and gets eaten by wolves.
SO MUCH better. And the only time you'll hear 'let it go' in this film is when he's talking about his leg. IN THE WOLF'S MOUTH!!! YES!!!!
All fifteen were re-watches except Hereditary (review here), Cujo (probably one of the reasons I enjoyed it so much was because I had never seen it before), Tango and Cash (where has that been all my life??!!!), And Soon the Darkness (decent but slow) and The Core which I can't BELIEVE escaped me as it's just the type of total crap I would have watched in 2003. Or 2018. Or whenever really. Though the SFX were amazing and I'm aware you can't hear my sarcastic voice right now.
I think we need some more gifs.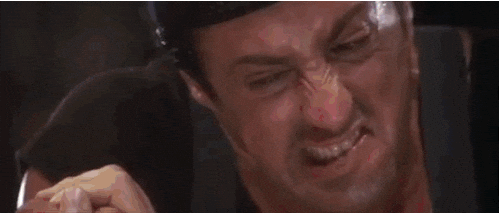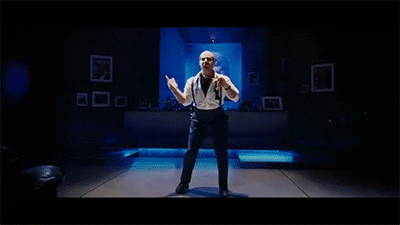 Sorry I went a little off TROPIC there (thanks) though you've got to admit the Overboard one IS great.
Anyway, moving on now (because I'm boring myself with my own post), very excitingly and with absolutely NO PRIZES to be won – except my respect and admiration of course – it's Quiz Time.
Simply match the correct tagline with its respective movie. All of them are films I watched over the past two months. Some more obvious than others, I must say –
If you think you'll get out alive, you must be dreaming…
No one knows you're up there… 
Violence as a way of life…
Two of L.A.'s top rival cops are going to have to work together – even if it kills them…
Man is the warmest place to hide…
The media made them superstars…
Remember the way Hitchcock kept you on the edge of your seat…?
Inner City vs. Outer Space
Earth has a deadline…
Based on the true story of one of the most terrifying secrets in American history…
Please leave your answers below. And have a super day.