---
We all ask ourselves the big questions in life from time to time. Should I eat that last Rolo chocolate mousse. Is David Tennant a bit too smug these days. And how many days (weeks)  is it until payday? Really? I've got like, £34 in my account.
Anyway today we're going to concentrate on just one of those big question's – which Human Centipede film should you watch for Halloween?
Happy Halloween!
Let's start in reverse order because the most important thing I have to mention right now is never, ever watch Part 3. Ever. It's utterly calamitous (yep) and not just that – even worse than that – it's actually painful to watch. Not good on any level. Possible levels being 'so crap it's funny' or 'so horrifically gory and gross it's kinda worth watching'. Well it's neither of those or anything in-between. It's just awful and no wonder they didn't make anymore.
I remember a fellow film fan telling me not to bother. He warned me how bad it was and also said something about "all he does is shout" – referring to the actor who played the mad German doctor in the first film and now (in Part 3) playing a prison warden in America. He's still mad, he's just not German and he wants to make a huuuuuuuuge centipede out of the prisoners bums and stuff. See! The premise is OK! It could have been alright!!!
But NOTHING was alright. Because all the mad doctor did was shout. And it was so very annoying it made the film unwatchable. You know when a film has a terrible, terrible soundtrack. It was worse than that. It was just awful.
It's been a while since I watched it but I don't even remember any cool gore. The only kinda gross thing I hazily remember is the 'kidney rape scene' which is literally just that. And yeah it sounds mean and nasty but you know what, it wasn't even difficult to watch because it was SO RIDICULOUS (!!!!) and the film was so awful and utter lunacy that literally not one part of me resonated with a 'supposed' plot and I really didn't give a shit about anything that happened in the story, I just wanted it to end.
It sounds a bit naïve and weird to say you were 'disappointed' by a Human Centipede movie, but on this occasion. Never watch it.
Anyway, now that unpleasantness is out of the way, onto the other two movies. The Human Centipede Part 1 (First Sequence) and The Human Centipede Part 2 (Full Sequence).
If you want to just literally watch a sick movie for the sake of it then Part 2 is definitely the one. It's utter garbage but at least there's no shouting – in fact hardly there's any dialogue at all. Perhaps the director was going for some kind of European, noir type of thing because it's entirely shot in black and white as well.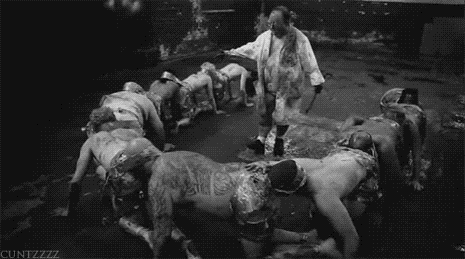 It's just very, very unpleasant for the sake of it. So much so (with literally NO joy or hope present at all) that it's actually quite amusing. The story follows Martin who lives with his weird mum and hears voices talking about raping him. This movie has EVERYTHING. Obviously. Teeth methodically tapped out of mouths using a hammer – shown fully on camera. A newborn baby being squished under the accelerator pedal of a car. A woman being raped by Martin who has BARBED WIRE wrapped around his penis. I'm sure you get the gist.
But that gif was just in case you didn't.
Where the first film – with its huge intrigue and 'most disgusting movie ever!' pre-release claims – perhaps disappointed slightly, because whilst still quite horrid, is not that gory, the second chapter most definitely pushes the boundaries of good taste – quite a bit.
To be honest, of the three, I'd be tempted to recommend the second film the most for shock factor alone. But for an 'average' movie goer, the original is probably the one to go with. It's the only one that has any semblance of a recognisable horror movie genre and the content isn't too hard to handle even if you are not some weirdo, hardcore gore fan.
It's not the greatest horror film ever, even including 'B' movies. Or even including 'C' movies. But maybe it's worth a go on Halloween night.
Depending on your threshold (and I have been known to underestimate this) it's not overly disturbing though still has some cool gross bits – "eeeeww… there's poo in his mouth". It definitely lacks any real 'classic' feel – even on a low rent horror film scale – but generally, it's the most watchable of the three.
Happy Halloween!