I hope everyone had a spooky and fun Halloween weekend. I celebrated by watching a scary film, eating cheese and drinking wine – pretty standard weekend to be fair but I enjoyed it.
To add to the festivities I thought I'd do a Top 10 of my Favourite Horror Film Animals – with a slight added twist……I've written a dating ad for each of them. I know, I know – how do I come up with such GREAT ideas….?! I've called it (imaginatively) – The Horror Film Animal Dating Agency and I'm already thinking Dragon's Den.
Top 10 Horror Film Animals
The Headless Pigeon from Hereditary – or is it The Pigeon Head from Hereditary?
💙 Coo! Coo! Since having my head rudely cut off by a rather strange girl I find it harder to coo….but maybe I could WOO YOU! My interests include hanging out at Trafalgar Square with my pals, helping raise evil demons from hell (new hobby), eating bread and getting in people's way when they're walking in and out of town centre shops. If you think you could make my beak weak and ruffle my feathers then please get in touch! 💙
Church from Pet Sematary
💛 Hisssssss! I didn't used to be so angry and yellow eyed and I need YOU to bring me back to the world of the living. I've been spending far too much time underground and covered in dirt feeling angry and murderous. I want to run along fences again and sleep for eighteen hours a day. I want to eat a little bit of food before turning my nose up and demanding a new bowl of food. Send me a message if you think I sound purrrr-fect for you. Oh and I'm not really that fussy on looks but no girls called Zelda . 💛
Big Spider from Arachnophobia
🖤 Sorry about my ex being in the profile pic. I don't have any feelings for her (and she's dead) but I don't have many good photos of myself – I just never what to do with my legs! A bit about me, well I'm originally from South America but hitched a ride to the US (kind of illegal but they can't do a lot about it now). I do have some baggage – quite a few kids from a previous relationship but they all flew the web some time ago. I'm just looking for companionship really, I'm a bit lonely to tell the truth. You'd be amazed how many people hate me before they even get to know me. I've been screamed at, threatened with shoes, books and all I'm looking for is a friend. 🖤
Dr Mambo from Cabin Fever
🧡 Hey guys, I'm Dr Mambo and I'm a Professor of Being a Dog. Being a dog is waaaay cool, I just get to like, run around all day and bark and wag my tail and chase random animals. Sometimes I even get stoned with my human when we go camping in the woods together. That's him with me in my profile pic, the dude with the dark hair not the douchebag almost blocking me out. So anyways I'm pretty chilled and not looking for much heavy, just someone to hump a little and sniff and stuff. Hit me back if I sound like your thing. Oh yeah – no RUFF bitches please, ha ha only joking I'll take anything.🧡
Black Phillip from The Witch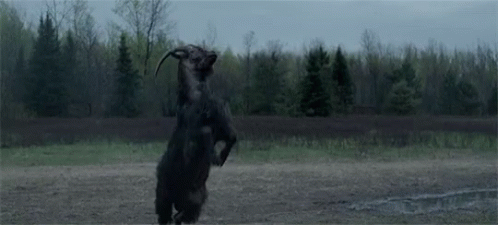 🖤 Wouldst thou like to live deliciously? Then I will guide thy hand…..
I'm powerful, horny (two right there on my head) and I've got the devil in me. Looking for a suitably sinful match. Don't be afraid dear, I'll take you to hell and back……🖤
Tragic Dog from The Fly II
💜 So that old picture of me is a little misleading but I'm scared if I post the true me it would put you off. I'm not exactly handsome but I have a good heart. It's not my fault what happened to me, I was tricked by evil scientists and they did experiments on me that didn't work too good. The only nice thing that ever happened to me was meeting Martin Brundle who was kind to me. 💜
COMMENT FROM THE HORROR FILM ANIMAL DATING AGENCY – A note for potential suiters – Tragic Dog is now off the market and we are currently waiting for our IT Team to take down this advert (they're all too busy playing Minecraft right now). We are very happy to report that Tragic Dog did find someone special and is now currently in front of a warm fire, under a snuggly blanket being handfed Maltesers chocolates and fillet steak. Yay Tragic Dog!
Jaws from Jaws
💙 Ok let's get this out early – I'm not well endowed. If you're looking for some well-hung hunk then I suggest you try one of those blue whale bastards. Oh they think they're so f**king funny, taking the piss out of me all day "ooh look at you BRUCE, you've got such big teeth and such a big fin and you're soooo big…..why you got such a tiny thingy?" I have to put up with their bullshit all the time, no wonder I'm so angry. So yeah, if you don't mind a great white with 1.5 inches in warm water – I do make up with it with my tongue (wink wink). 💙
The Moth from Silence of the Lambs
🤎 I'm sick of sitting in the dark thinking about death. And I'm not getting any younger, I'm hardly a chrysalis. I don't have much to offer in terms of money or cooking skills but I am very exotic and have lovely skinny, velvety legs. We could chase lightbulbs and porch lights and have so much fun together. My friend Precious is already part of the Animal Dating Agency and she has a lot of dates (Old Promiscuous Precious we call her down the club house!) so I'm hoping my luck might be in too. And trust me boys – I enjoy being up ALL night… 🤎
Brundlefly from The Fly
💔 So, this is a tiny bit complicated. I'm not a 'fly' exactly but there's no way I'm getting any human dates on Tinder (not when I can't even take a girl to Nandos without barfing up stomach fluid to eat my chicken thigh double burger on medium heat with two sides – standard). Sigh. I used to be a great guy but now I'm just a super fly. I can walk up walls and do impressive stunts and break a thug's wrist bone, but I'm not very nice to look at. Not that I'm looking for anything serious. I'm too flighty and still in love with my ex Veronica. Now SHE was a woman. Sighhhhhh. 💔
Cujo from Cujo
💛 Bark! Bark! Bark, bark, baaaaaaark! Bark! Baaaaark! What? Bark! Rapid slobber. Bark! Come here! Snarl. Chase. Bark! Bark, bark! Snarl……..Sorry about that, ever since I was bitten by that gnarly old bat I have trouble keeping calm…….BARKKKKKKKKK! Chase. Chase again. What? Snarl. Growl. Super growl. Run! BARRRK! Slobber, rapid slobbering. Bark! Snarl. Bark! Snarrrrlllll…..grrrrrrrrrrrrrrrrrr. BARK! BAAAAARK! I WANNA KILL YOUUUUUUUUU! Bark. 💛