---
Some good old scary books
October is upon us and we all know what that means. Halloweeeeeeeen! So lets get some SCARY SHIT STARTED. Over the next couple of weeks I have spooky soundtrack posts planned, horror movie reviews (of course) and the Best Netflix Recommendations for the scary season. For now I thought I'd start in the old fashioned way – and recommend some books.
"Let the Right One In" by John Ajvide Lindqvist
You know how annoying it is when you've just really enjoyed a film only to be told "the book is so much better". Well in this instance I'm afraid that irritating and slightly pretentious sentence could actually be true.
I read Let the Right One In after I'd seen both film adaptations and I wouldn't say I enjoyed it loads more as such – but it's just so much more horrific. The book goes into territory that neither film would ever have dared with some seriously dark and twisted subject matter. It's a fantastic debut novel – well written, gripping and also pretty gross.
Of course we're all familiar with this particular story – Oskar and Eli (or their apple pie cousins Owen and Abby), fangs, snow, bullies and blood. Oh and some angry cats. But in the original story the depravity goes waaaaaay further and though it's horrible it's also kind of awesome.
"Salem's Lot" by Stephen King
It's true I could have used any number of Stephen King novels here but I always remember – with genuine fondness – just how badly Salem's Lot scared me the first time I read it. I remember being in bed and literally having to stop reading  because I was getting too freaked out. Imagining some horrible little vampire kid scratching at my window.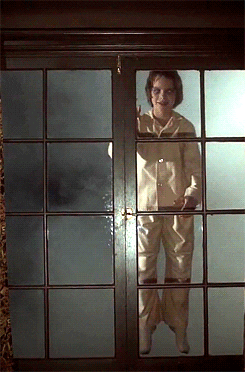 Stephen King, he just has…..a knack for what he does. A way of really getting into the reader's head. I've never been scared in the same way when reading stuff by other horror authors. With King you really believe it's real sometimes. Well I definitely had a pinnacle moment with Salem's Lot when I realised (to some dismay) I couldn't actually read the book at night anymore. I constantly imagined those awful fang-shaped things that were surely lurking outside my window and I resigned the book to daytime use only.
"Collected Ghost Stories" by M.R. James
M.R. James actually helped formulate the creepy, crawling ghosts we know well today in modern film and literature. Before James, ghosts mainly existed in gothic fiction and were all 'white sheets and rattling chains'. James wrote his ghost stories in a more contemporary style which made them more relatable to the reader. That in turn made them scarier – and more realistic.
I used Collected Ghost Stories for illustrative purposes but there are tons of books around dedicated to his stories and some may be cheaper than others. It's also worth mentioning that whilst I was writing this post I discovered a podcast dedicated to his stories – A Podcast to the Curious – that's got to appeal to you hip, trendy, smart phone using bloggers, hasn't it?
Whatever route you go down, you must be sure to read the story 'Oh Whistle and I'll Come to You, My Lad' – it's my personal favourite M.R. James and it's really, really, really spooky.