---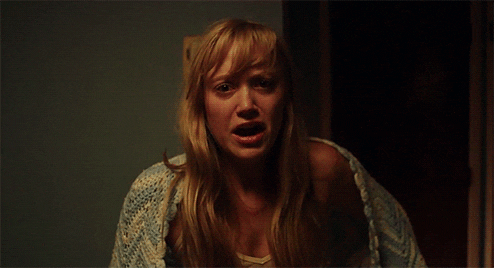 Mwahahahaha, welcome to my lair of horror……
Well firstly there's loads of scary movies from the last ten years that I really enjoyed. And even more that I just 'enjoyed'. How do you whittle it down? Some were obvious choices but this post did take some Wikipedia memory research.
I basically went for the obvious and chose films that I loved first time round and remember watching first time round – and also stuff that I still get pretty excited about when having a repeat session. None of the entries have I only seen once and thinking about it, I own all of them on DVD or Blu-Ray (I'm old fashioned you see).
They're in no particular order, but the top five are The Most Special.
My Favourite Horror Films of the Last Decade (2010 – 2019)
---
10. The Babadook (2014)
A genuinely creepy delight that made it hard to sleep after. A rarity that almost lives up to outlandish trailer claims of 'scariest film ever!'. Not too many films are genuinely super chilling nowadays but The Babadook pretty much hit the mark and when you add the clever story and characters (highlighting of course the darkness of the mother and son relationship) I just don't think you can honestly talk about horror films of the last decade without mentioning this Australian gem.
Read my original review here.
9. Warm Bodies (2013)
Rookie choice I know but in truth I had a hard job deciding on my tenth movie. And then I remembered how much I loved Warm Bodies – which IS described on the IMDB as a horror (look there's genuine brain eating scenes so I think it's okay). What I loved most about this quirky (hate that word usually) story was just the total charm and loveliness. Nicholas Hoult is sooooo likable and the overall message about kindness and understanding was for once not a vomit inducer, but actually so brilliant.
8. IT (2017)
After a big build-up, IT turned out to be a pleasurable ride. It felt 'made with love' and the 1980s setting worked well. The kids were likable, the dialogue amusing and IT was definitely scary. Objectively speaking I'd say it was a better horror than the 1990 version – though the nostalgia and love for Tim Curry will always remain in our hearts (I know, I know). But as far as 're-imaginings of classics' go, IT ticked all the boxes for me.
Read my original review here.
7. It Follows (2014)
Another one that – in a slightly pretentious way perhaps – is hard to ignore when discussing horror films of the decade. Not because it's like 'soooo amazing' as such but It Follows was different to the commercial norm in plot, style and execution. I mean yeah Quentin Tarantino's "not just disappointed but almost a little angry" speech was pretty funny but it was still a great flick, with some genuinely disturbing scenes and the score was truly fantastic.
Read my original soundtrack review here.
6. Evil Dead (2013)
One of the finest horror remakes I've ever had the pleasure of viewing and I don't give a fuck what anyone has to say. Evil Dead is just BAM! – in your face like a massive, rusty knife. So much blood. So much gore. SO MUCH BLOOD (it rains blood). Even the music is brilliant, loud and completely adds to the over the top vibes. Now, I like the original and I like this, I'm not really comparing them. I just found Evil Dead such amazing, refreshing fun with its 18 Rating and actual loads of scary shit that happens.
5. Ghost Stories (2017)
I like anthology horrors, I like British horrors – and I definitely like creepy, disturbing horrors. Ghost Stories is all of those things thrown together, with a smart story and a well written, humorous script. It made my spine tingle, it made me laugh and it made me think (not in a philosophical way, just about the plot I mean). Perhaps not for everyone but a definite personal favourite. I was about 10 minutes into it on the first watch and knew it was me all over.
Read my original review here.
4. The Green Inferno (2013)
I watched this the two times I found it on Prime for free and then ended up buying it in a 2 for £10 deal in HMV (the other film was Ghost Stories). The rest is history. I guess this Eli Roth movie is some kind of homage to old cannibal films, horrid and ominous stuff like Cannibal Holocaust. But I don't know… I never saw it like that. Cannibal Holocaust is nasty and unclean, this is just a laugh. Most of the characters are unlikable or forgettable and seeing their gory fates is quite fun. The violence is OTT, highly gross even, but never actually upsetting. Watching some guy have his eyeballs dug out by someone's finger (and eaten) whilst he's laying there screaming – popcorn movie! Loads of cool stuff happens and it's a pleasure to watch.
3. Black Swan (2010)
I know I'm stating the obvious here but truly the main reason I like Black Swan so much is because – for me at least – it's super duper scary. It happily contains all the nightmarish ingredients guaranteed to freak me The Fuck Out and now I'm no longer a scared little kid hiding under a blanket whilst watching Strange But True on TV in the 90s, I do struggle to find real chills. Black Swan has it all – scary faces, scary dreams, scary eyes, scary paintings, scary visions, scary Winona Ryder making holes in her face with a nail file (wow the first time that scene made me jump!). I have to be in the mood for Black Swan but when I am in the mood, I love it every time.
2. Kill List (2011)
Kill List is just so strange and disturbing I can't help but LOVE it. The atmosphere is dynamite – something dreadful and unspeakable is constantly hanging over the story and you're never really given a break. The plot following a couple of hit-men seems simple enough at first glance, but you go way down the rabbit hole with this one. With super violent, graphic scenes and an unforgettably awful (in a good way) and terrible climatic ending – this crazy Ben Wheatley film is unforgettable – and highly original – both in story and execution. A big favourite of mine.
1. Hereditary (2018)
What an absolute joy this film was and I'm not being sarcastic. One of the best big budget horror movies of recent years, Hereditary is involved, clever, horrible and completely disturbing throughout. With a story that actually stands up alongside the scares and a distinct, dark atmosphere, Hereditary feels like quite a triumph in modern horror and only gets better each time I watch it. So horrid! So delightful! Such an all-round pleasure. Nice to go to the cinema and see a horror film that actually frightens you, that shocks you to some degree even. A story different to the norm and a great definition of the horror genre in general. You can read my original review here.
So there we have it and I hope you enjoyed reading. Any thoughts? I guess if I had to choose my MOST very very favourite it would be Kill List. Honestly that film is just so weird and original and screwed up and brilliant. And for those wondering I did almost include Get Out but can't honestly say I loved it. And I pretty much hated A Quiet Place.