---
John Carpenter's 'Vampires' (1998) – Film Review
Is it Vampires or is it John Carpenter's Vampires? I think actually it's just Vampires but I can't help but but introduce this film as 'John Carpenter's…'. It sounds right.
Anyway I got the idea of watching it after seeing it advertised on the Horror Channel. My boyfriend and I love watching films of shall we say, occasional 'kitsch' value and though I didn't doubt AT ALL that I'd enjoy Vampires on a real horror appreciating level, I can't pretend the lure of James Woods playing a master vampire slayer named JACK CROW in a potentially corny Carpenter movie didn't appeal too. Because it did.
I enjoyed it a lot! More than I thought I would and refreshing is the word. FUN is yet another. Though Vampires was released in 1998 (I was twelve) it definitely has more retro film vibes. I mean 1998 was a year after Titanic came out for gods sake. THREE YEARS after Toy Story. That just seems really weird to me.
There's that super perfect 'less than perfect' feel. No CGI (or hardly anyway) and a corny, rocking soundtrack courtesy of Carpenter himself – clearly the Dennis Waterman of film directors. Vampires just has that un-glossy (for lack of a better word or um, any alternative word) feel. And I loved it.
Plus let's not forget the presence of James Woods (JACK CROW) fantastically bad tempered, hating everyone and wearing the quintessential vampire slayer outfit – leather jacket, moody expression and sunglasses all of the time.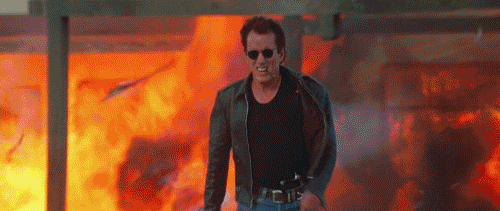 HELL YEAH.
So the story follows this motley crew of guys who work work alongside the Catholic church killing vampires. They are quickly portrayed as 'lads' who work hard and play hard. After killing a nest of vampires in the desert they clap themselves on the backs and hit the booze. Sex and stuff and being really, really smug (like no-one could totally be as hard and sexy as they are) both swiftly follow.
Actually they're not extremely likable in a lot of ways and I could easily imagine a group of hardcore feminists absolutely hating their guts. But as if they'd care anyway! Dumb fucking whores. And anyway most of this questionable squad get wiped out right at the beginning of the film by top ancient vampire Valek, who is super old, super strong and super powerful.
Leaving it up to James Woods, a Baldwin brother and a young, idealistic priest called Adam (sent from the Catholic church to babysit Woods though that ain't happening) to find Valek and kill him once and for all. Because they need all the help they can get they also take poor, doomed prostitute Katrina (aka whore) along for the ride – she now shares 'psychic thoughts' with Valek since he bit her on the thigh (naughty beast!).
And that's the plot. With loads of gore and insulting comments thrown in along the way. Seriously, there's a lot of good dialogue to enjoy. James Woods takes "NO SHIT" and is pretty much movie gold for the entire ride. The lines between him and Adam the Idealistic Priest are particularly fun. Woods' certainly enjoys winding him up but you can't help but sense a little bonding between the pair as well. Ahhhh. You guys.
All in all I haven't really got anything bad to say about Vampires at all. It's entertaining, amusing, action packed and has a great ratio of blood to humans. Always nice to watch a more traditional style horror movie – a pleasure and so very fun too.