---
"Dream big. Live the life…"
Rock Star (2001) – Film Review
I'd seen Rock Star before. Once at the cinema. Being almost twenty years ago I didn't remember much but I did clearly remember two things: one, that Jennifer Aniston has beautiful hair in it (even more amazing than usual). And two, there was a really funny line containing the words "and I was just the queen…" which happily was just as funny as I remembered, if not more funny. Actually it was more funny.
We watched it a couple of weekends ago having just got back from a four day trip to Scotland which involved driving there and back (from Essex) and climbing Ben Nevis in torrential rain and hailstone (but that's a whole other story). So yeah four days. Pretty exhausted. We medically required something fun, easy to watch and at times, unintentionally hilarious. Rock Star was perfect.
To be fair it was actually better than I remembered. The story follows Chris 'Izzy' Cole (Mark Whalberg – obvs) who is lead singer in a tribute act to hair metal band – the beautifully named – Steel Dragon.
After Steel Dragon kick their singer out, Chris ends up playing the front man for real. And thus follows a cautionary tale of life on the road with a metal band. Sex, drugs and rock and roll prevail. YEAHHHHHHHHHHHHHHH!
It was nice seeing Wahlberg play this kind of character actually, not saying he always plays baddies but you know what I mean. Usually he's a tough Bostonian doing a lot of backwards looks to the camera. Not that I'm disputing this at all, I love Mark Wahlberg and let's none of us ever mention The Happening ever. EVER.
But in Rock Star he was a young – and at times naive – guy who was totally (said in a Bill and Ted voice) fanatical about rock. A likable, enthusiastic guy still living at home in a bedroom full of music posters and an unmade bed.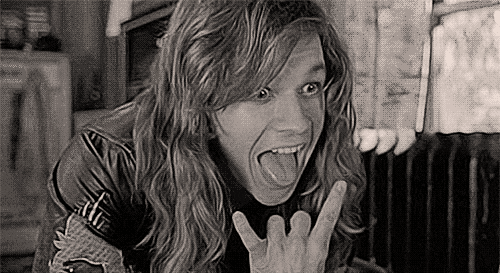 Don't get me wrong, Rock Star is DEFINITELY funny, clichéd and oh so massively camp (thank god) but also a fun, enjoyable movie by its own merit. Most of the boxes are ticked. I mean, glam metal is pretty funny in real life at the best of times, so any hilarity in this story doesn't detract from it at all. Rock Star features original songs (Steel Dragon!!!) which are well done, realistic and 'of the time'.
The cast all play their parts well. Two particular highlights were of course Jennifer Aniston with her beeeeeeautiful hair playing Chris' ballsy girlfriend and good ole' Timothy Spall playing the Steel Dragon band manager – a man with dubious morals throughout who OF COURSE comes good in the end and proves himself to be a salt of the earth chap.
Isn't she so lovely? And probably preferable to a still of Timothy Spall (no offence).
Now maybe I'm wrong but I can't remember anyone ever talking about this film that much. In fact me mentioning it in the car on the way home from Scotland was probably the first time I heard anyone talking about it since I talked about watching it in the cinema in 2001. And that strikes me as rather a shame.
Because Rock Star is definitely worth watching and it doesn't matter if you're into hair metal or Wahlberg or leather trousers, big wigs and rock star orgies (that may happen). It's just a good film, a little bit silly and a lotta bit fun. Perhaps because I had medium range expectations it helped but I definitely remember feeling pleasantly surprised – and glued to the screen – whilst watching this easy going, feel good fun ride.
In fact I remember saying afterwards (and giving it perhaps the highest accolade ever) – "I'd definitely buy that if I saw it in a charity shop".
Rock on!!!!!!!!!!