---
Time for some brutal honesty with my –
Top 10 Worst Habits
10. Picking my nose – almost didn't include this. Not through embarrassment (let's face it we all do it sometimes) but more belief that picking one's nose isn't such a bad habit. Eating it is though. Eating it is DISGUSTING and you should all be ashamed of yourselves.
9. Not always washing my hands when I use the bathroom – look I told you I was going to be honest. I think the word 'always' is the one we should cling on to here? Plus it's only when I'm home or about to jump in the shower or something (yeah…..).
8. Being lazy – I used to think I'd grow out of it, but I never did. I'm lazy in the way that I put off doing things (like writing posts for my blog) in favour of sleeping, watching The Chase and……..well that's about it really. Sleeping and watching The Chase.
7. Only being ready at the very last minute – I don't know the meaning of the words 'having a sit down whilst I wait to leave the house'. I get ready to the minute and if something sets me back – i.e. not being able to find my keys or the beginning of a bad hair day – I'm running late.
6. Worrying about stuff that doesn't matter – I'm one of life's endearing natural born worriers. And I like to worry about completely inane shit that won't matter come the zombie apocalypse. Shhhhhhh brain.
5. Talking to myself – even cracking JOKES sometimes. And then laughing at them. I can't be the only person who does this?
4. Eating weird stuff when I'm home alone – examples include – a (fairly fucking adequate) bowl of mash potatoes covered in thick gravy. These 'episodes' usually take place in bed.
3. Looking at young blokes (especially in summer when they've got no tops on) like some sad old letch – purely for fun and to brighten up the day of course. I like tanned chavs (relax it's a term of endearment) in tracksuit bottoms the most. Only for fun! Calm down, calm down.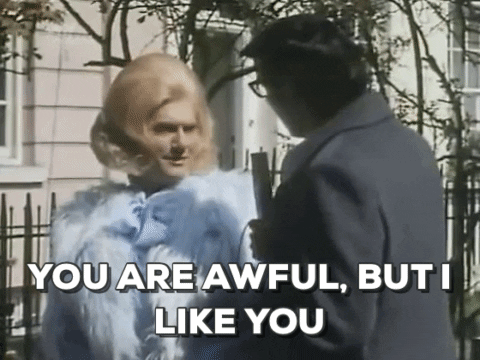 2. Always wanting to control the music at parties or social gathering of any kind – this may seem fairly mild but has actually led to quite a few arguments between me and my friends. Usually I just want to listen to constant Eminem, rap in general and loads of 80s stuff.
1. Not listening – I do this all the time and it's definitely my worst habit. I zone out a lot, often when people are talking to me. I then realise I have no idea what the person talking to me is talking to me about. Sorry about that, must be rather annoying.