---
I watched a total of eight films in May.
The first four – Southbound (2015), Autism: The Curious Case of the Human Mind (2016), The Guest (2014) and Mean Machine (2001) I've reviewed before (follow the links), so you can read those if you're interested. For the record they were all good and yes I still love The Guest.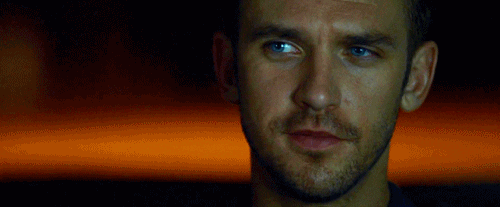 Couldn't resist a little gif of David being all smug and handsome. Oh and Southbound is worth another shout-out, it was a nice find on Prime – a portmanteau horror with nods to fond areas in the genre, rather fun.
I'm not too sure how The Eagle Has Landed (1976) even happened to be honest, as it's not exactly high up (or even on at all) my watch list but I enjoyed it fine. Though let's be honest, most 'older' war films do look a bit shit compared to today's standards (you know, the special effects). The accents on the contrary are consistent being mainly rubbish then and mainly rubbish now. Though it was an enjoyable watch – for a one off. I liked Robert Duvall the most. And much as I dislike Donald Sutherland most of the time, I have to admit he was good in it as the maverick IRA man and did a very convincing Irish accent (the swine).
Bridesmaids (2011) isn't anything especially remarkable BUT it's worth talking about for a few minutes because I watched it at my first ever Open Air Cinema! Tourist pictures below:
Actually it wasn't that great, I mean it was fine but I remembered I wasn't really that keen on the film and it got cold and everyone around us took it quite seriously and there was a smug couple snuggled on a giant beanbag and they looked warm. Glad I went but wish it had been a different film, sadly I already missed Back to the Future booooooo. BOO. I don't think a load of women shitting in a dress shop will ever rival a single second of the golden goodness that is Back to the Future.
And lastly (we have got through these quick) on a truly wild and rocking weekend I watched both The Evil Dead (1981) and, uh, The Evil Dead (2013). Now remakes are obviously a sticky subject anyway with any 'true' film fan declaring them all as awful and personally insulting. With horror remakes see above but multiply the intensity by twenty. Horror fans don't generally like remakes. But who know what? Who fucking cares. The Evil Dead remake is so bloody enjoyable and I find every aspect of it, literally every single thing from the effects to the story to the music absolutely perfect. The original will always be just that, the original. Of course it's the best, it's great! And it will always have the kudos of Bruce Campbell and be known as a true classic from the 1980s. But I still find it impressive how such a good horror film was made off the back of another.