---
Let the Right One In – soundtrack review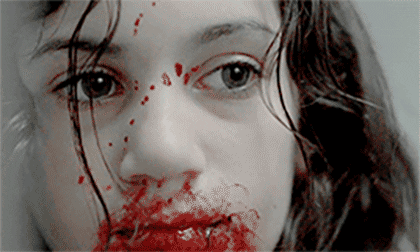 I finally found a second-hand copy of this soundtrack just before Christmas – I had been looking for one for YEARS (not kidding) as it's not an easy one to buy unless you're willing to pay mega bucks. Now I was willing to pay mega bucks, but my bank balance wasn't.
I first realised it was an 'interesting' soundtrack when I saw it on Amazon – brand new – for £350. The price has shifted around since then, see below for today's second-hand prices – but always been fairly high.
High for a fucking compact disc anyway! And certainly higher than is realistically reasonable for music I can listen to on Spotify and YouTube when I have rent to pay.
But still – I really, really wanted it. In fact I LONGED for it. And further investigation on its Wikipedia page showed that only 500 copies of the actual CD were ever released. Like loads of soundtracks it was available in crappy and weird and too-techno-for-me-unless-its-for-my-mobile-ringtone MP3 format but hard copies were alas, limited. Well some of us still live in the stone age (circa 1997) and enjoy buying CDs. Plus I've accumulated a pretty cool soundtrack collection by now. And I damn well wanted it.
So in December I was browsing online music shops for soundtracks (like I often do) and low and bloody behold, I spied a second-hand copy (described as being in 'excellent condition') for sale for £6.99. I can only assume this particular shop never bothered to check the value and of course I ordered it – if it wasn't the real thing nothing major lost.
When it arrived I had to make sure it was real, but everything checked out. Gosh, will you listen to me! I'm saying that like I'm some kind of 'expert' antiques dealer on the History channel – of course really I have no idea what I'm talking about but I managed to look up its bar code, which confirmed it as being a 'high value' CD and the inlay and disc itself were printed with details of MovieScore Media – the production company that eventually released the 500 limited copies. It does look good, right?
Yay! So now I've droned on about my exciting time purchasing a CD, I can get to the real nitty gritty – the music. Oh wouldn't that be nice, if I talked about the music?
Swedish composer Johan Söderqvist wrote the score and it's performed by the Slovak National Symphony Orchestra. Weirdly both had collaborated before on the other Swedish vampire film Frostbiten – it's kind of like 30 Days of Night, but funny.
Now it must be said that much of this soundtrack is rather bleak sounding but at the same time, it's so genuinely beautiful that it's hard to think of it as 'sad' music. It's not uplifting but it's……what's that word people use? Achingly – I think that's it. It's not uplifting but it's achingly lovely. Melancholy perhaps. But that non-threatening stage of melancholy we all secretly enjoy.
There is certainly hope in the music – but darkness too. And let's remember this was written for a horror movie and I'm happy to report that among all the sadness and all the beauty, there are also genuinely frightful scores as well, which – if alone at home without many lights on – are quite scary to listen to.
For example, the track 'Virginia in Flames' (ouch) has a very dark and disturbing sound to it. It's honestly quite scary to listen to – which is perfect, given the nature of the scene. And then there are tracks such as 'Death of Håkan' which aren't as flat out scary sounding, but are very eerie and atmospheric. Spooky.
But my favourite track is (and always has been) 'Eli's Theme'. This was the first score from the movie I ever listened to outside of the movie.
It's sooo very pretty – heartbreaking of course but full of hope and dare I say, some romance. A gorgeous and lovely score which surely has to be written from Oskar's point of view – and by that I mean it's not scary in the slightest. Just like Eli.
And the best thing is there are variations of Eli's Theme throughout the whole film (or album – whatever way you want to look at it). Choosing the same approach as many other composers,  Söderqvist has written his real theme of the movie in this one track – and the rest is built around it.
So, anyway, I will leave you with a thought from the said man himself – Johan Söderqvist. I've wittered on for quite long enough. Cool I own it though, right?