---
Guardians of the Galaxy – soundtrack review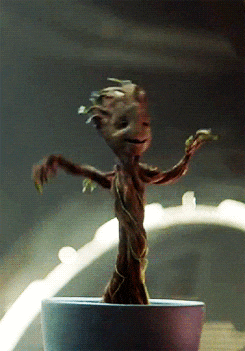 When I watched Guardians of the Galaxy for the first time, three things occurred to me that unbelievably had nothing to do with mashed potatoes or fidgeting.
How funny the film was and so much better than I expected  (I'm not massively into the Marvel films, okay?)
How Chris Pratt is actually kinda fit but also still more annoying than fit
And the brilliant soundtrack
To be honest I tend to notice the music used in movies – as it can be so god damn effective! But with Guardians of the Galaxy you'd have to have gummy bears in your ears if you didn't hear the awesome tracks. Literally. Gummy bears. Or just a big build-up of wax – in which case you may want to book an appointment for a professional syringe rather than read this review.
To those unfamiliar with the story Chris Pratt plays a dude who is taken away from his family as a kid and then he ends up in alien slash comic book territory. The only memory he has from home is a mix tape his mum made and of course it's very precious to him.
Cleverly it's his mix tape that provides the soundtrack.
How cool is that? The personal feel of the songs goes hand in hand with the sentimentality and charm in the story and because it's a funny, quite quirky film it really does works perfectly.
There is a still a film score written by Tyler Bates and it's possible to buy a deluxe edition of the soundtrack which includes both parts – the mix tape and the scores. I was tempted but it was the songs I really loved and check out the CD cover – I was sold!
I'm not sure how many more times in this post I can use the words "mix tape" but AHHH it's a picture of the MIX TAPE!!!!
Which reminds me, the full title of this OST is: Guardians of the Galaxy: Awesome Mix Vol. 1 (Original Motion Picture Soundtrack).I have a sneaky suspicion I know what the soundtrack to the sequel may be called.
It was also the second biggest selling soundtrack of 2014. What beat it? Well, you know it, trust me and here's a big clue – let it go, let it go…. Yuck. I've never seen Frozen – nor do I have any desire to – but that song is still seared into my brain like a branding iron.
Anyway, back to Guardians of the Galaxy. To be honest with you none of the songs are particularly, amazingly remarkable and the track listing is slightly reminiscent of a bargain compilation. A bit corny perhaps? But don't get me wrong, there's some awesome pop songs on there and I generally really like music from the 70s and 80s (all the tracks are from these eras) but with stuff like Spirit in the Sky and 10cc's I'm Not in Love (!!!) it really is more fluffy pop than anything. It just works.
And of course it's hearing the songs in their original context of the movie that make them so special and fun – even though we've heard them countless times before at family parties and weddings they just seems kinda better in the film. Generally a fun and optimistic album that is particularly good when driving or doing the housework (fact).
My favourite tracks are Hooked on a Feeling and Go All the Way.