---
Battle Royale (2000) – Soundtrack review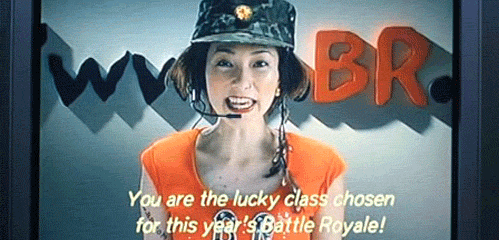 So the time has come to talk about another of my beloved CD soundtracks: BATTLE ROYALE!
I'm saying it like Kitano says it at the beginning of the film when he's standing next to the chalk board – anyone know what I mean? I do hope so.
BATTLE ROYALE!
So anyway I bought this album last year, it's not a soundtrack I particularly wanted to listen to that much but I thought it was a cool addition to my collection and the film is one of my favourites and the price was fairly good so it all made sense.
It's a scored soundtrack (my favourite type), but one of the most recognisable tracks was written about 150 years ago by Giuseppe Verdi. The piece is called  Dies irae, from Requiem and Tarantino fans may also recognise it recently, from Django Unchained.
The whole album has a very classical feel, as well as sounding very exciting and quite emotional at times. Most of the other tracks were scored by Masamichi Amano – a Japanese composer and the entire album was performed by the Warsaw Philharmonic Orchestra. All together now – "ooooooh!" (said like an audience watching The Generation Game).


Happily, upon listening to the Battle Royale soundtrack I did find it much more fun than I anticipated. Individual tracks were written specifically for their individual scenes (duhhhh) and it was fun replaying the movie in my head whilst listening – I mean if you know the film well, you can pretty much follow the whole story just by listening to the music. In all honesty I probably won't ever listen to it LOADS on a recreational basis but still, it's a CD that I'm very pleased to own as it contains many atmospheric and passionate pieces of music. And it's a cool fucking film!