This is just a quickie. Most definitely not a review. I'm seven years late to the party but this post will be spoiler heavy so if you haven't seen it yet….maybe stop reading.
OH MY GOD how brilliant is Furious 7??????
I watched it last night. My boyfriend and I have been working our way through the franchise since before Christmas. Last night was Furious 7 night.
I was intrigued when I read James Wan directed it. I was excited when I realised Kurt Russell was in it (!!!!!) and I was genuinely impressed when I saw its 7.1 rating on IMDB. But nothing – NOTHING – could have prepared me for this no holds barred, adrenaline fuelled thrill ride. This has to be THE nuttiest and most over-the-top mental extreme craaaaaaazy of any Fast & Furious film.
Aside from so many fighting or fast car scenes my head started to spin (budget was 200 million apparently) – and aside from many corny looks to the camera or speeches about "family" from Vin Diesel, let me recount three 'key moments' to demonstrate just how insane genius this film is.
SKYDIVING CARS (AKA: Skydrive!)
Ok so Vin Diesel, his missus and the crew need to get on a road on an island or something, but basically they can't land a helicopter there. Problem solved by………….everyone getting in their cars and then jumping them out of the plane.
As I snorted like a pig (sometimes I do that when I laugh really hard) I said to BF incredulously "so what?!! Vin Diesel's just gonna land on the road and just like, drive off?!"
Yep that's exactly what he did. Unbelievably I have also just read online that this scene WAS NOT ACHIEVED BY CGI. They really did push cars out of a plane. Absolute effing legends. I knew James Wan was a good thing.
THE DUBAI SKYSCRAPERS
To be honest the whole – extremely loose – storyline about going to Dubai was mainly just to show bronzed tits and arse and have another mental crazy scene. Yay!
And then when it became clear that Vin Diesel and Paul Walker are going to drive a supercar from the top of a penthouse suite in the Etihad Towers to somewhere else because they need a valuable item inside the car – AGAIN I turned to BF and said "so what now, they're gonna drive it from one skyscraper to the next?!!" I was actually joking, but, guess what guys….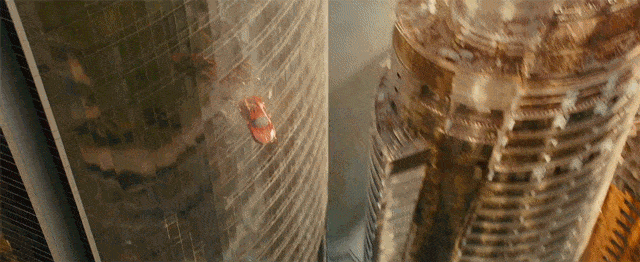 And this didn't happen once, oh no. It happened TWICE!!!!!!! Entire floors of the towers completely blitzed, probably many people dead. Absolute carnage, how would they even get out of the country without facing major Dubai authority? Oh well fuck it – back to LA. The streets they KNOW.
THE ROCK BREAKING HIS PLASTER CAST BY FLEXING HIS ARM MUSCLE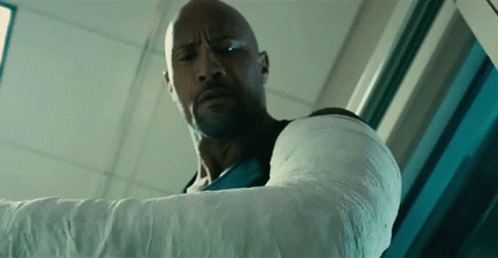 The Rock is holed up in hospital for much of this movie (but only because of a kick arse fight with Jason Statham where The Rock is propelled from a top floor office by a grenade and then lands on a car outside saving someone's life in the process).
Right near the end he sees on TV a breaking news story about Dom and the crew tearing up the streets of LA. The Rock thinks enough is enough! Jumps out of his hospital bed, BREAKS OFF HIS PLASTER CAST with brute muscle arm force and then picks up a huge gun with the intension of shooting down a helicopter.
HONOURABLE MENTION – DOM BEING ALIVE THE WHOLE TIME WHEN LETTIE THINKS HE'S DEAD AND THEN HE SAYS "IT'S ABOUT TIME" WHEN LETTIE SAYS HER MEMORY IS BACK
Though I'm taking the piss a tiny bit I genuinely do mean all the adoration and I did truly love the film which was a blast. Absolutely unashamed and great fun. Aside from these crazy moments (which only made it better), the heart of the film was right. Sure, you can be critical or po-faced, but what's the point?
And the tribute to Paul Walker at the end was absolutely fantastic and really, really well done. Really sad and really brilliant.
They nailed it and the tears were streaming down my face. A triumph, in every way.