---
So anyway I know I'm a tiny bit late in doing this – though to be fair, until the cheese, gherkins and endless boxes of Celebrations run out (or you're just left with the shit ones and empty wrappers at the bottom of the tin) it's definitely still Christmas and totally still acceptable to listen to Christmas music. Here's my –
10 Favourite Christmas Songs
10. Do They Know it's Christmas, Band Aid
The 1984 version of course. It's not truly Christmas until you hear this song and it's always fun watching the video and trying to name each singer, even the most obscure. Bono is so annoying though. Yeah in the video but mainly just in general.
9. Merry Xmas Everybody, Slade
Not really a song I personally love LOADS but it definitely isn't Christmas until you hear this classic from the 70s (perhaps even more so Band Aid). Released all those years ago and it's still the ultimate Christmas party tune. What does that say about us?
8. Stay Another Day, East 17
The only explanation I can realistically give is that it's one from my era and in the video they're all wearing fluffy white coats which is pretty funny.
7. Run Rudolf Run, Chuck Berry
A nice bit of rock & roll that will make you move like Marty McFly in Back to the Future. And it's in Home Alone, which is the best Christmas movie ever (vote for it here).
6. Lonely This Christmas, Mud
This song from 1974 was intentionally sung in the style of Elvis Presley and is a delightfully melancholy Christmas song.
5. Last Christmas, Wham!
RIP George Michael, bit of a shock this month and very sad news. One of the first things I did when I heard, was put on this song. I LOVE IT. I've always loved it. My friend Phoebe and I made up a dance routine for it twenty years ago at school and I still remember those moves. Plus the video is slightly unintentionally hilarious. Slightly? Very.
4. I'm Dreaming of a White Christmas, The Drifters
Definitely my favourite version of this Christmas classic, mainly because I like the harmonized, doo-wop style of singing that The Drifters adopt. And it was in Home Alone.
3. All I Want for Christmas is You, Mariah Carey
Who doesn't love this song! Seriously? Anyone?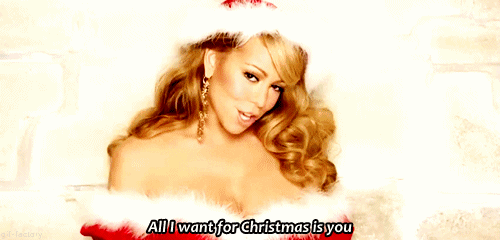 2. Rocking Around the Christmas Tree, Brenda Lee
Another song from the Home Alone soundtrack. Coincidence? Absolutely. But I suppose it does prove me and John Williams have a similar ear for music. Love this catchy tune that always wants to make me dance!
1. Merry Christmas Everyone, Shakin' Stevens
Without doubt my favourite Christmas song. I even 'hilariously' have it as my ringtone as soon as 1st December rolls round. And I hate that shit sissy BBC version they're playing at the moment.
Merry Christmas Everyone! And a Happy New Year.