---
Trainspotting (1996) – soundtrack review
Frinton-On-Sea is full of charity shops. It's also full of old people so that might explain all the charity shops. I'm not being rude by the way, it really IS full of old people and known as a popular place to retire. God I wish I could retire.
And (before you get all cross with me) I'm not saying young hip cats can't enjoy charity shops too – I mean look at me – I'm the hippest cat ever and I love a good charity shop.
So anyway, me and my grandad went to Frinton for his birthday earlier this year (hip cat stuff) and after a lovely lunch in the only pub on the high street – The Lock & Barrel – we went for a browse of the twenty million charity shops available to us (okay I'm exaggerating but just a little bit) and in one of them I found the Trainspotting soundtrack on CD.
It was only £1.49 and in good condition too. No brainer – obviously I was going to buy it – one of the most iconic film soundtracks EVER, often listed in Top 100 'Movie Soundtrack' lists, probably super fucking cool to own on vinyl and in the palm of my hand for a quid fifty. Absolute no brainer.
No – I think the real question here is why I had never bothered buying it before.
Well mainly, it doesn't do an awful lot for me. Generally I prefer scored soundtracks anyway as otherwise it's just a bunch of songs and never feels – to me at least – as much like 'film music' as a score can. With the huge exception of the Pulp Fiction soundtrack of course which is probably my favourite OST ever. Anyway back to Trainspotting.
There are some fun (Lust for Life), great (Atomic) and simply wonderful (Perfect Day) tracks on the album but all in all it still just reminds me of a generic 90s festival compilation mix. Don't get me wrong, it's a good collection of songs, but mehhh – I can't get that excited over it. I've been listening to Born Slippy since I was 12 years old for gods sake. It's like the OPPOSITE of what I love about film soundtracks – which is discovering new, cool music. The Trainspotting soundtrack is pretty much all stuff I listened to or heard anyway. Or never even liked that much.
So vast negativity aside, I already mentioned it was a rather popular OST (Vanity Fair ranked it as the 7th best soundtrack of all time, whilst Rolling Stone put it in at no. 13). But get this – it was so popular, that one year later a second soundtrack was released, featuring more songs featured in the film (but not the original soundtrack), mixes and mash ups and even songs that WEREN'T featured in the film but 'contributed' to the inspiration. Phew. Here's the track listings from both albums. And doesn't Jonny Lee Miller look so cute and young and mischievous. Bless him.
Even though I'm not personally hugely inspired by this soundtrack as a stand alone album (overly long sentence there), one thing I will definitely say with objective opinion is that some of the songs are really, really and REALLY TRULY iconic to the movie. And that in itself is an accomplishment.
I'm not some huge Trainspotting buff, but who could ever forget these scenes below or NOT imagine them when you hear the subsequent songs that go with them. It probably helped being released in 1994, when the British music industry was really coming to life in a big way with Brit Pop and Indie filling the charts and undoubtedly the film created – whether intentionally or not – an unforgettable and very highly rated soundtrack, which was also relevant to the decade and culture of the time – though obviously most people didn't take heroin. Just Ecstasy by the sounds of it. Boom boom boom boom.
Renton legging it down the street to Lust for Life by Iggy Pop.
"buy a fucking big television"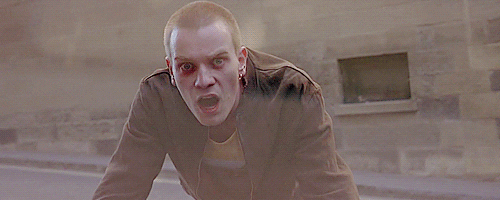 Renton (again) injecting junk with the Mother Superior and then OD'ing and having his head bounce on loads of concrete steps before being taken to A&E in a taxi. All to the dulcet tones of Perfect Day by Lou Reed. Probably my favourite song on the album – would have been Atomic if it were the original by Blondie.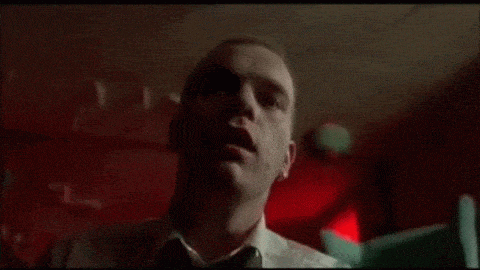 And of course – THE toilet scene! Set to Brian Eno's Deep Blue Day. Danny Boyle really wanted to use David Bowie's Golden Years for this scene but Bowie wasn't interested. In fact I've read that he turned down A LOT of offers of collaboration over the years, which makes him even cooler in my eyes (and impressive that Gervais got him to do Extras!).