---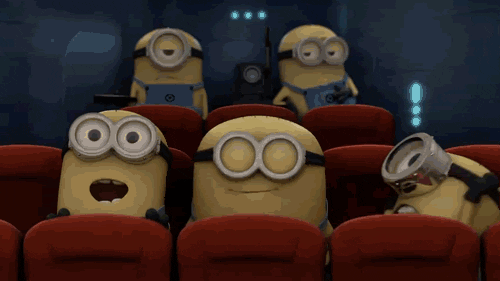 I got thinking a few weeks ago about my most memorable trips to the cinema. Nothing kinky (not sure why I felt it necessary to confirm that) but still, there have been some trips to watch films that I remember more than others.
As a kid, quite a few incidents spring to mind. One time me and my best friend Chloe got chucked out of our local cinema 'The Rio' for throwing cans of coke around. Hooligan behaviour I know but we were only thirteen at the time. Unbelievably, this tiny cinema with only two screens and sofas instead of cinema chairs, is still going today. I'm not PROUD of our reckless, teenage behaviour exactly but I don't regret it either. I've lived man!
The guy who owns The Rio used to let us watch literally anything we wanted (and – in passing – he's a right miserable bastard too). But a ticket still costs today what it did in 1999 – £3.00 (the average cinema ticket in the UK costs £10.00) so if four teenagers wanted to watch a gory horror movie who was he to stop them? It was greatly possible that the four teenagers could be his only customers for the whole night so I do understand. Though the time he let us in to see A Clockwork Orange, with his only comment being "I don't think you'll like it much" does remain quite worrying.
Of course snide remarks aside it is really cool that a cinema from 1931 is still going to this day in my hometown.
---
This one is so embarrassing and it contains an ex-boyfriend (urgh – vomit) so not the best of memories in general. It was so embarrassing because I had to walk out of a packed movie theatre (at the Basilson Empire on a Friday night). And I don't like drawing attention to myself at the best of times.
So what happened was we were watching Saw 3, arguably the goriest of all the Saw movies and it starts off with a scene where a guy has all these metal loops, nah, you know what, here's a picture, easier to get the idea:
So I tried to use a fairly tame picture (for all you tame readers out there) but you can hopefully see how this lucky guy has chains attached to him via the big metal hoops. They've thoughtfully been placed in painful crevices ALL OVER HIS BODY and the idea of The Game (I wanna play a game!) is that he pulls out the hoops, causing himself much pain and blood loss – to avoid being murdered in another unpleasant fashion.
Anyway, as Saw fans know, these scenes are pretty OTT and usually accompanied by fast camera movement and very loud music. Well my wussy ex-boyfriend (he was a dick in general) couldn't take it – three minutes into the film and he couldn't take it! He whispered to me that he felt funny and we had to leave. I was like, you must be kidding right? I probably even laughed, thinking it was a joke. But cut a long, sad story short, we did end up leaving. And I felt like a right twat, convinced that everyone would think it was ME – the pussy little girl – that was terrified of fake blood and heavy metal music.
Happily I went to see the movie a week or so later with my friend Marie. We then made it our Halloween date for the next four years to watch every new release. Here come the girls!
---
And in 2008 I went to see Gran Torino.
Nothing particularly remarkable about this except I went with my grandad and it was the first time we'd been to the cinema together – ever! I was 22 and he was 68. Now my grandad is a great, great man. And to be a great, great man who should you idolise? Well, Clint Eastwood of course.
My grandad introduced me to Spaghetti Westerns and Dirty Harry and when I reported that Eastwood was bringing out a new movie where he turned vigilante-hard-guy once again my grandad actually agreed to come and see it at the cinema. It was nice sitting there with him, listening to him laugh at Walt's growling and straight talking attitude. The only mistake we made was not realising it had a super sad ending. We weren't ready for it – I was still crying as we left the cinema and my grandad swore he would never watch it again. Happy times!
But talking of crying in the cinema, we've all done it right?
When I was twelve, me and my friend Emily went to see Armageddon. We went to another small, local cinema in a neighbouring town which has since closed down. The Flix only lasted about ten years I think.
Anyway – wow that film made me cry! In my little twelve year old mind, Bruce Willis sacrificing himself for the life of Ben Affleck was THE MOST IMPORTANT THING EVER and the cringe-worthy scene where he appears on screen to 'Gracie' saying he's gonna have to break his promise and not come home is burned into my memory forever, perhaps even the retina of my eye I remember it so clearly.
Anyway, I ended up running out of the screen (probably just as Aerosmith started playing) and into the toilets. Legendarily, that was where Emily found me – crying, in the toilet, wailing between sobs "I…love…Bruce….Willis". And you know what? I still really, really do.